What is the Role of Business Analyst
What is the role of Business Analyst and what Business Analyst does on his day to day life, this is the first question in our mind when we are learning about Business Analyst.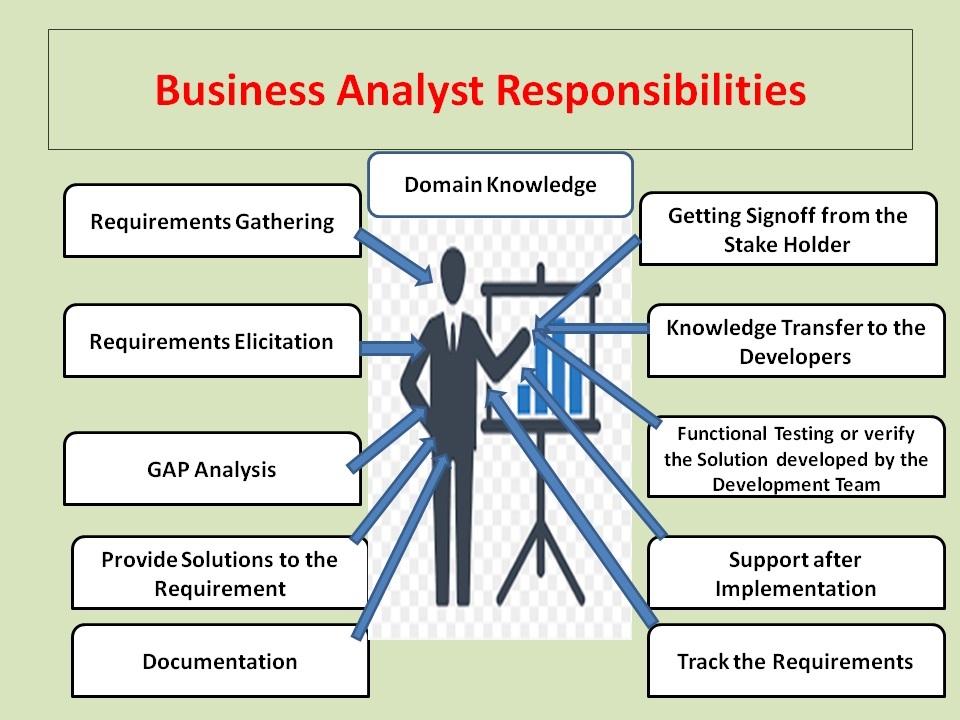 Who is BusinessAnalyst/ Role of the BusinessAnalyst in Project:
Business Analyst is a communicator between internal and external stakeholders. Business Analyst needs to understand the Business requirement and analyze the same and provide suitable solution to Client.
Business Analyst can be able to understand the requirement from client and he should be able to explain the same to Technology team to deliver proper requirement.
Customer explains in functional way what is his need and what he is expecting from the system.
Basic Responsibilities of Business Analyst/ Role of BusinessAnalyst in Project:
Understand the project

Gathering the Requirements

Analyze and validate the Requirements

Understand the Requirement

Feasibility study.

Managing the stakeholders and identify the stakeholders.

Identify the (SME) Subject matter experts.

Track the requirements till delivery.

Write Test Cases (Whenever needed)

Test the Application Functionality and match with the Customer requirement.

Arrange multiple meetings with internal and external stake holders to understand the requirements (Workshops, Brainstorming sessions and Walkthroughs.

Ensure to deliver the requirements on time with less bugs.

Support to client to understand the application functionality.

Prepare User Manuals (Where ever Needed)

Prepare the Documents (FSD,FRD and BRD)

Should have Domain Knowledge (Ex : Banking, Insurance, Healthcare)

Understand the SDLC(Software Development Life Cycle)
What is the main objective of the BusinessAnalyst
Business Analyst or Project Management main objective is to collect the problems and issues from the different users in the form of client requirements or need of a Customer, and to solve the problems with the help of Subject Matter Experts, by keeping stake holder expectations.
Before scheduling the meeting as a Business Analyst we should have proper Agenda to meet customer needs(Requirements).
Please ensure to participate Associated Stake holders.

Decision Makers and SME's should be participated in meeting sessions to clarify the doubts and to take necessary decisions where ever needed.

Should ask all the relevant questions related to requirement and ensure meeting should be on track, if it goes to off track then time will be wasted, and they may confuse with different requirement.

And ensure everyone should participate in the meeting.

Take minutes of the meeting once meeting completed, and please share with all the participants who are involved in the meeting.
Role of Business Analyst in Testing
Scrum Master Role in a Project
Business Analyst Role in AML/Kyc Project
Business Analyst Role in Product based Company
Can I become a Business Analyst:
Business Analyst Role in Agile Project.
Tell me About Your self as a Business Analyst.
For Business Analyst Certification you can visit IIBA. 
Business Analyst FAQ
What skills are needed for a business analyst?
Nine Key Skills That Every Good Business Analyst Needs
Understand your objectives. Being able to interpret direction is important. …
Good verbal communication skills. …
The ability to run stakeholder meetings. …
Be a good listener. …
Hone your presentation skills. …
Be excellent at time management. …
Documentation and writing skills. …
Stakeholder management.
Does business analyst require coding?
To perform BA work on an IT project does not require a technical background or the ability to write code. … As a business analyst on an IT project, it is important to have a general understanding of software systems.
What industry is business analyst in?
Developing technical solutions to business problems, or to advance a company's sales efforts, begins with defining, analyzing and documenting requirements. Managing requirements at the project level can help fulfill business needs. Business analysts typically take the lead role in: Assisting with the business case
.