Business Analyst Skills / Skills required for Business Analyst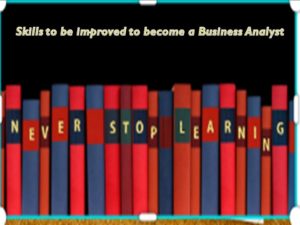 Many people are looking for business analyst role, here we will see what are the skills needed  for business analyst role to prove as a good business analyst.
Before going to learn about Business Analyst, I feel it is good to know Business Analyst Skills
A good team player

:

 
Business analyst needs to interact with different teams and coordinate for the development activities, it is very important to a good team player, he needs to involve in the project in all the levels, for example: design, development, UAT and implementations.
A good listener: 
Business Analyst should have patience and listening skills. He should listen what others are saying, should not disturb when others are saying something during discussions are meetings. Only when you listen, you understand your clients better and of-course the requirements.
Good Communicator: 
Generally people relate communication to speak in English, this is not correct. A good communicator will not only speak good English but also ensures the communication is well received by the intend audience. This is very important, because when you are communicating with stakeholders and you are using very tough words then communication may not reach to the stake holders and they may think in different way. Communication should be simple and understandable.
Quick learner: 
if you are working in a new domain should be able to understand quickly. Understand the problem statements of clients, pain points of the business process etc. Because if we are unable to understand what client is saying then we can't communicate the same to internal stake holders and we can't provide solutions to the client.
And continuously we need to concentrate on updating our skills like domain knowledge or related software knowledge, coding and development is not a mandatory skill for business analyst, but still if we have some knowledge then we can easily manage the stake holders.
Many people looking for Business Analyst role has a wrong understanding, they think – just because Business Analyst is a non technical role, they can be business analyst. This is totally wrong.
Some people also think that, Business Analyst job is to do only documentation; hence it is very simple and easily doable job. Again this is a wrong understanding.
List of activities performed by the business analyst mentioned in another post.
My intention is to make you understand what are Business Analyst Skills it does not mean that only mentioned are Business Analyst Skills, these are most important Skills to deal with the stakeholders.
Skills of Business Analyst
Business Analyst Skills
Can read below to understand Business Role and Responsibilities in project.
Business Analyst Role in Agile Project
Business Analyst Role in project
Day to day activities of Business Analyst
Business Analyst Skills : FAQs
What does an Business Analyst do?
The analyst is involved in the design or modification of business systems or IT systems. The analyst interacts with the business stakeholders and subject matter experts in order to understand their problems and needs. The analyst gathers, documents, and analyzes business needs and requirements.
What should business analyst learn?
Business analyst are experts in the field of business analysis which is the task of understanding the changing business needs, assessing the impact of these changes, capturing, analysing and documenting requirements and supporting the communication and delivery of requirements with clients and stakeholders.
What are the 3 most important skills of a business analyst?
Nine Key Skills That Every Good Business Analyst Needs
Understand your objectives. Being able to interpret direction is important. …
Good verbal communication skills. …
The ability to run stakeholder meetings. …
Be a good listener. …
Hone your presentation skills. …
Be excellent at time management. …
Documentation and writing skills. …
Stakeholder management.
What does a business analyst do day to day?
A Day in the Life of a Business Analyst. Business Analysis is the responsibility of knowing when a business's needs change, assessing the business impact of those changes, obtaining, examining and recording requirements, and maintaining the communication and delivery of the requirements to relevant stakeholders
What are the BA tools?
The Axure tool provides the capability to produce wireframes, prototypes, and create documentation. This tool is used by professionals like business analysts, product managers, and IT consultants around the world
What are the skills needed for a business analyst?
Professional business analysts can play a critical role in a company's productivity, efficiency, and profitability. Essential skills range from communication and interpersonal skills to problem-solving and critical thinking.