---
Role of a Business Analyst in Migration Project : Business analysts play a vital role in ensuring that migration projects run smoothly and deliver successful results. They analyze current and future processes to identify issues and suggest solutions, measure the effects of the changes, and ensure compliance with regulatory standards.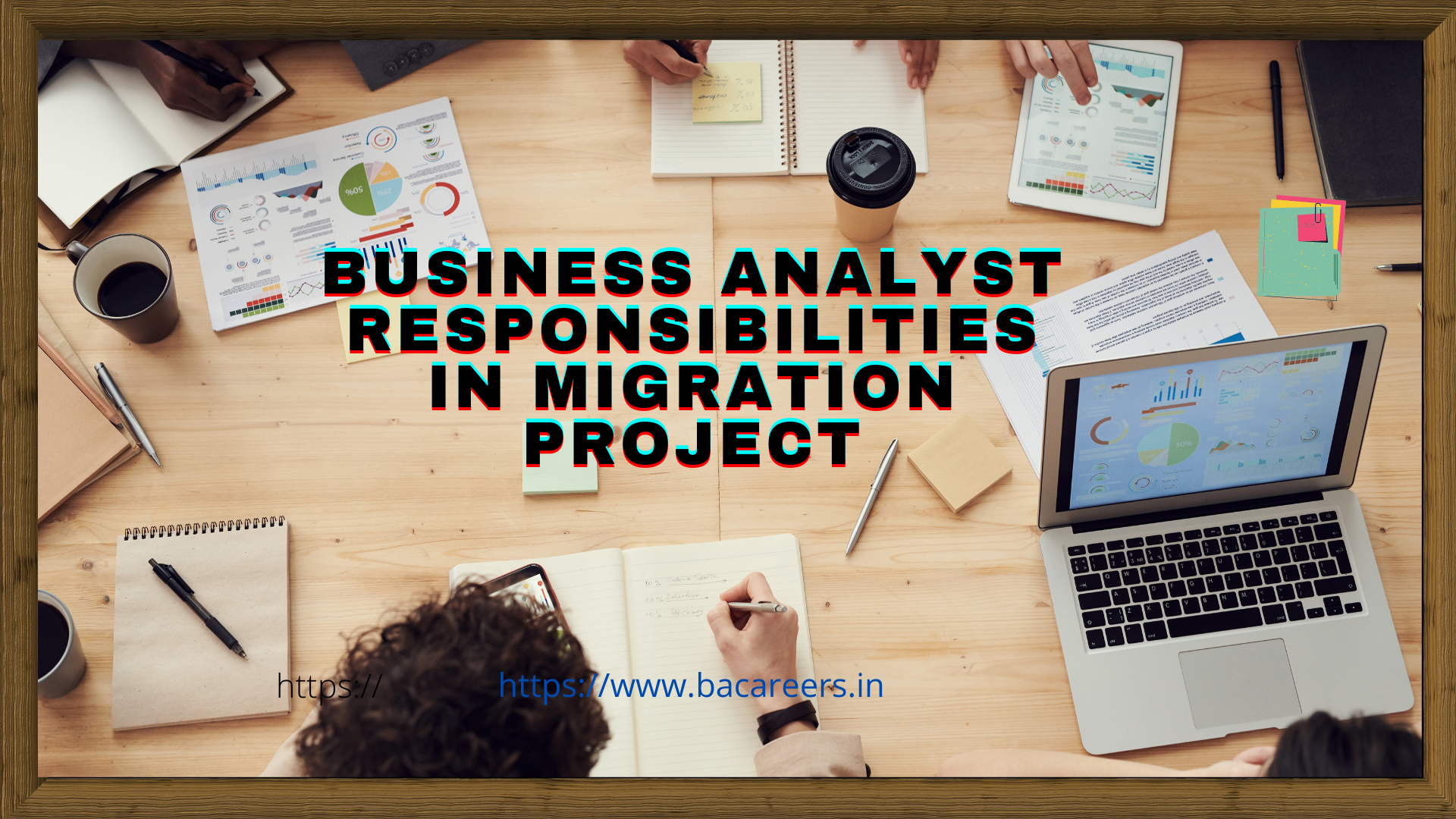 Research Common Challenges & Solutions
As part of their role, the business analyst will conduct research to identify potential issues and develop recommendations on solutions. They'll need to be aware of common challenges that may arise during the migration project, such as data integrity, system compatibility issues, security risks, or user adoption. By researching these areas thoroughly, they'll be able to come up with possible solutions and present them to stakeholders for review.
Document Application Architecture
During the migration project, it's essential the business analyst document application architecture and components in order to properly understand the current system. This can help you determine what elements of the current system might be problematic or inefficient and suggest possible solutions. Additionally, they should analyze any third-party applications that may need to be integrated into your new system. By doing this, they can ensure all user data and settings are accurately migrated over to the new back-end solution.
Analyze Processes and Critical Workflows
After analyzing the architecture of the system, it's important for business analysts to assess how various processes are mapped out across different departments and functions. This can provide insight into critical workflows that must be taken into consideration during the migration project. Additionally, it is also essential to observe patterns in user behavior so as to better understand user needs and expectations. This will help ensure a smooth transition from old to new systems and reduce potential impact on users.
Identify New Opportunities and Improvement Areas
A business analyst's role in migration projects is also to identify new opportunities and areas for improvement. This involves collecting feedback from users about the existing system performance and using that information to develop an optimized experience for users. The business analyst must have a good understanding of user perspectives, as well as technical knowledge in order to recommend changes aimed at improving system performance. Additionally, they can use user data and metrics to suggest areas of the system that can be improved upon during the migration process.
Monitor Migration Progress to Optimize Performance
An essential role of the business analyst in a migration project is to monitor progress and optimize migrating system performance. The business analyst can review user feedback, assess usage data and usage patterns to identify areas of improvement. Additionally, the business analyst can help find technical solutions for identified issues and suggest changes to existing processes and procedures that can improve system performance. This monitoring process helps optimize the performance of newly migrated systems from start to finish.
What is a business analyst?
A business analyst is a person who helps plan and execute the business processes of an organization. Their job is to help translate specific goals into practices that will achieve those goals, and to help improve the efficiency and effectiveness of an organization's operations.
Why is a business analyst important in migration project?
A business analyst is essential in any migration project because they help define the goals of the project, understand the current processes and systems, and create plans for how those systems can be adapted or replaced. They also serve as a liaison between different parts of the organization, ensuring that everyone working on the project is on the same page.
What are some duties of a typical business analyst?
The duties of a typical business analyst include conducting requirement analysis, developing process maps, providing workshops and training on best practices, creating summaries and documentation of projects, and maintaining records of migration progress.
What is the role of a business analyst in a migration project?
A business analyst helps plan and steer the process of moving a company's data to a different platform. They work with leaders in IT to plan and execute the data migration, ensuring that it runs smoothly and meets all the necessary requirements. They play an important role in making sure that all stakeholders are kept up-to-date on project progress, and that any issues or challenges that come up are resolved as quickly as possible.
Business analyst is responsible for the overall success of a migration project.
They are responsible for creating and managing the project plan to ensure that the migration is completed successfully.
They help identify and resolve any issues that may arise during the project.
They document all steps of the migration process so that others can follow it correctly.
The business analyst is an essential member of any successful migration team
A business analyst provides guidance and recommendations on how to migrate an application or system from one platform to another.
They work with the project team to identify the needs of users, identify potential issues, and recommend solutions.
They play an important role in making sure that all aspects of the migration are properly planned and executed.
They ensure that data is correctly captured and managed during the migration process, and that any changes made to the source system are reflected in the target system.
Finally, they contribute to overall project success by helping to identify problems early, suggesting solutions, and overseeing the final execution of the migration project
Business analysts are responsible for defining the overall business strategy in line with the company's objectives and vision.
They are also responsible for managing and leading the project team, ensuring that all projects are completed on time and within budget.
They should be able to work with different teams within the organization, keeping everyone informed of progress.
The Business Analyst should have strong analytical skills and knowledge of project management tools, as well as a good understanding of the company's mission and goals.
The business analyst is responsible for coordinating and managing the project and ensuring that all stakeholders are meetings their commitments to the project.
The business analyst develops Plans, Estimates, and timetables while working with stakeholders to ensure efficient and timely completion of the project.
The business analyst coordinates resources to improve efficiency and ensure communication between all stakeholders.
The business analyst oversees quality control during the migration project to ensure that all data is processed correctly and meets all requirements of the company.
Below articles also help you to understand the role and responsivities of Business Analyst
FAQ'S
What is the role of a business analyst in a data migration project?
Business Analyst role in a data conversion project
In a data migration project, a BA would typically take the lead in the following activities: Identification of all current data sources. Analysis of data fields to be migrated, including mappings/transformations to be carried out (ie data conversion)
What are the roles and responsibilities of a business analyst in a project?
The BA recommends and assesses impacts of changes that enable the organization to achieve its goals; captures, analyzes, and documents requirements; and supports the communication and delivery of those requirements to the stakeholders.
What is migration analyst?
The Job. The purpose of the role is to provide a data transfer service to successfully migrate data from new and existing customers' third party practice management databases into the client's MS SQL based Partner for Windows system.
What is BA role in project implementation deployment?
A business analyst is also responsible for documenting functional requirements. These are the product features that engineers implement to allow users to achieve their goals. Hence, a BA's role is documenting it clearly for both developers and stakeholders. Formulating the main backlog.