Stakeholder Management/ Analysis
Who are Stakeholders: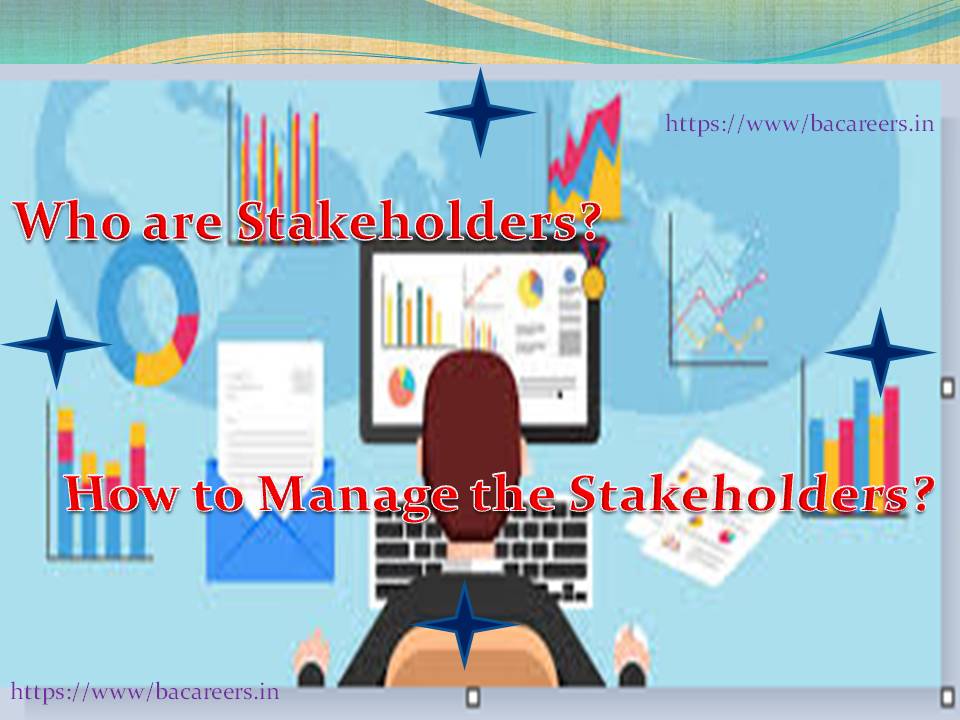 Who are involving the project directly or indirectly are called as stake holders. Ex: Development Team, Testing Team(QA), client, SME's and Architect. Stakeholder management is very important to gather the requirements.
And as a Business Analyst we have coordinate and arrange multiple meetings and interviews with multiple teams to understand the requirements and to deliver the requirements as per planned schedule.
As a business Analyst we are responsible for certain things like,
Investigation of requirements

Elicitation of requirements

Analyzing the requirements

Communicating with internal and external stakeholders

Documenting the requirements
Stakeholder Management/ Analysis
Business analyst role is continuous improvement, continuously we have to concentrate on our skills and we have to upgrade as per industry to survive or to prove as a Business Analyst. Always Business Analyst needs to think how things can be better, and how we can provide better service or support to the client.
When we are analyzing the requirement we should also think about the impact on existing functionality and what are additional things are needed to meet customer expectations.
When we are communicating product delivery dates to client, we should ensure that we have to deliver on time which includes design, development and testing and all internal approvals, before committing due dates we have to understand exactly what is the requirement and how much man hours needed and what are the challenges we may face during producing the product. Because if you are unable to release the product on committed dates then client may lose confidence on you, so it is difficult to handle further. Before committing dates you should concentrate on design, development issues, Testing and issues and what are the dependencies on other teams.
To understand the situation and complexity of the problem clearly we can do interview stake holders, it helps us to understand the problem clearly and client also feel team is working on their issue, so client also may happy. Once we understand the problem clearly then we need to spend time with the internal teams to resolve the issue.
To understand the requirements clearly we have to coordinate with stake holders and subject matter experts, Subject matter expect will explain to us what the exact business requirement is and how they are expecting the functionality of the application.
Sample BA Document Templates
How to identify Stakeholders and How to get in touch with the Stakeholders: Stakeholder Management/ Analysis
Project Managers or Project directions can help us who are the stake holders and with whom we need to coordinately closely to understand the requirements clearly. Some of the stake holders are very important because they may impact on the project if they have any requirements.
Usually Project manager or Project director can decide who the stake holders are or in some of the cases stake holders can decide who can be the project manager. Project managers or Project directors should know who the stake holders are.
Once you start discussing with the stake holders then you can understand who can help us to understand the requirement clearly and what is the involvement of the stake holders in the project. Based on that you can identify and categorize the stakeholders.
Once you identify the stakeholders then we need to categorize them. Like..
How do they impact on the project.

What are their contribution on the project

What is the level of involvement and how do we need to communicate with them.
Once you get the requirements still you need clarity then you can discuss and coordinate with the Subject matter experts to understand the requirements in better way, but remember one thing, if we ask one question then subject matter experts will give multiple answers, then you need to pick the correct one which suits to your project and which is in scope. Scope like as boundary for us, if we cross the boundary then project manager may feel bad and it may impact on project delivery. Because it will impact on the budget, resources, scheduling and planning.
If you schedule any meeting with the stake holders, first you give overview of the project to the stake holders, so that we can expect the requirements within the scope. It will help us to keep them in control.  Once you get the requirements, ensure the document it and get the sign off from the client.
Identify the stakeholders, Identify of level of contribution in project, create a relationship and build a trust among the stakeholders. Because if stake holders do not have confidence or trust on you then they may refuse to discuss with you, it may impact on requirements gathering, so it is very much important to build a trust among the stake holders.
I hope it helped you to provide the overview of Stakeholder Management.
To know more about stakeholder management, you can browse on google to get more information and idea.
Stakeholder management and analysis plays very important role in Business Analyst daily tasks.
Sample BA Document Templates
FAQ'S
What Is Stakeholder Management?
Stakeholder management is the process of maintaining good relationships with the people who have most impact on your work. Communicating with each one in the right way can play a vital part in keeping them "on board." This article is about how to communicate effectively with stakeholders.
What are the 7 principles of stakeholder management?
The 7 principles of Stakeholder Management!
…
Bucholtz and Carroll point out that the principles highlight action words that illustrate the spirit that should be used in engaging with stakeholders:
acknowledge.
monitor.
listen.
communicate.
adopt.
recognise.
work.
avoid.
What is an example of stakeholder management?
Examples include employees, customers, shareholders, suppliers, communities, and governments. Upstream stakeholders contribute to or approve the activities required to design, build and bring a product to market.
What are the 4 steps of stakeholder management process?
Four Steps to Stakeholder Relations
Identify Stakeholders. The first stage in stakeholder relations involves researching individuals and third-party organizations that may be relevant. …
Study Stakeholders. Once potential stakeholders have been identified, do your homework. …
Prioritize Stakeholders. …
Contact Stakeholders
What are stakeholder management techniques?
Five strategies for effective stakeholder management
Stakeholder mapping. Early in the project, conduct a thorough stakeholder analysis to identify your stakeholders. …
Influence is key. …
Identify the triggers. …
Look for opportunities. …
Proactive mitigation.
What are the 10 key principles of stakeholder management?
Key principles of stakeholder engagement
#1 Understand. …
#3 Consult, early and often. …
#4 They are human too. …
#5 Plan it! …
#6 Relationships are key. …
#7 Just part of managing risk. …
#8 Compromise. …
#9 Understand what success is.
What makes good stakeholder management?
Good communication keeps crucial stakeholders on board. Stakeholder management is the process of maintaining good relationships with the people who have most impact on your work. Communicating with each one in the right way can play a vital part in keeping them "on board."
What is stakeholder management and why is it important?
Stakeholder management is an important activity that is used to gain mutual understanding of the objectives and expectations of all parties. It aids in developing a concept that will gain support from all the interested and affected parties enhancing the likelihood of a successful outcome
What is the objective of stakeholder management?
At its core, stakeholder management is the ability to create and maintain positive relationships through the appropriate management of individual needs, wants and expectations. Stakeholder management is a process that works best when planned and guided by underlying principles.
Why is stakeholder management skills important?
Stakeholder management is important since it is the lifeline of effective project relationships. This needs to involve establishing a sound relationship and understanding how their work is contributing to project success. You need to establish trust and maintain relevance
What is stakeholders management plan?
The stakeholder management plan defines and documents the approach and actions that will increase support and minimize the negative impacts of stakeholders throughout the life of the project. It should identify the key stakeholders along with the level of power and influence they have on the project
What is the first step for stakeholder management?
Stakeholder Analysis is the first step in Stakeholder Management, an important process that successful people use to win support from others. Managing stakeholders can help you, too, to ensure that your projects succeed where others might fail.
How do you build stakeholder management?
Six principles for building trusting stakeholder relationships
Seek first to understand before being understood. …
Have empathy and think in win/win solutions. …
Set a good example as a project manager and leader. …
Be honest and open about project progress. …
Be proactive and take responsibility for your actions.
What are the four types of stakeholders?
The easy way to remember these four categories of stakeholders is by the acronym UPIG: users, providers, influencers, governance
What are the five steps to stakeholder engagement?
5 Essential Steps to a Stakeholder Engagement Plan
Reduce project risks.
Manage your resources more effectively.
Facilitate team collaboration.
Gain buy-in.
Meet timelines.
Build trust and better relationships with stakeholders and communities.
.