Business Analyst Interview Questions
Below are some questions which can be asked during interview.  I mentioned some of the important questions to prepare before attending the Interview. It does not mean that interviewer will ask below questions only during the interview.
Please note that, there can be many more questions. I have listed some usually asked questions and usually I ask these questions for  to 3 years of experienced  business analysts.
I tried to mention best answers, but you should research and prepare before attending the interview.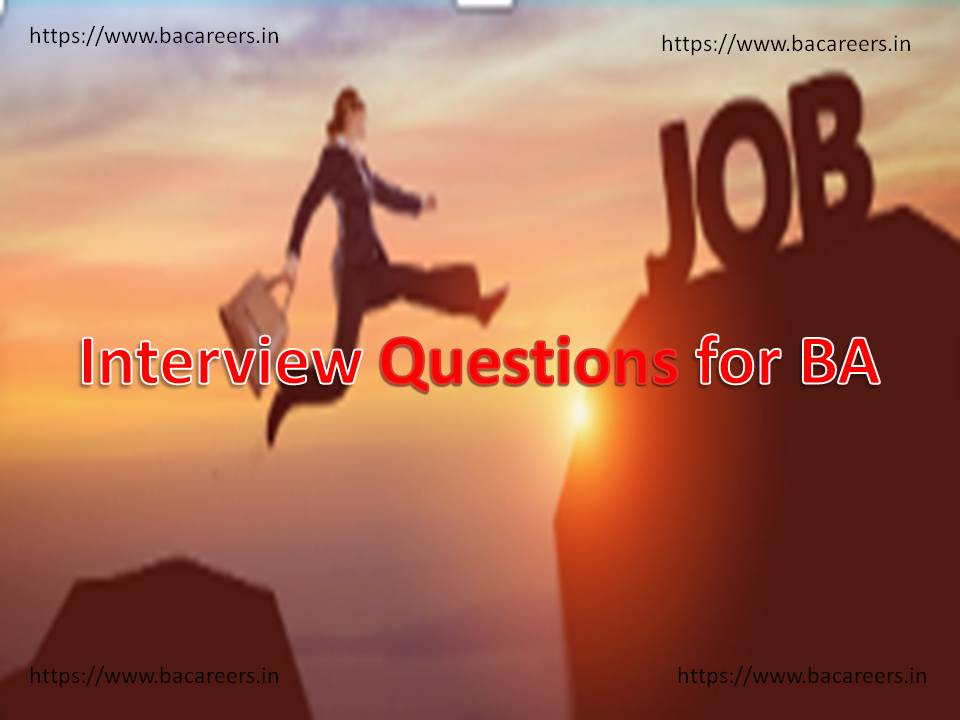 Let us observe commonly asked InterviewQuestions for Business Analyst or Business Analyst interview questions.
Before attending the interview we commonly browse for Business Analyst Interview Questions, we feel it helps us to provide overview on what questions they may ask in interview and it helps us to prepare well before attending interview. It improves the confidence on us if we have some idea.
Here I try to mention some commonly asked Business Analyst interview questions.
Sample BA Document Templates
Tell me about yourself or brief your CV
This is the most common question if you attend for any interview.
we may think this is very common question and easy to answer, but it is tricky question. Interviews wants to know about yourself and interviewer will observe your communication skills and your way of presentation skills.
I believe below article may help you to get some idea how to answer this question.
Tell me About Your self as a Business Analyst.
What is SDLC?
SDLC is Software Development Life Cycle or System Development Life Cycle. SDLC is a framework defined to develop a software or application. SDLC is phase mannered approach and each phase will have set of activities to perform.
There are different SDLC models, the most popular are Waterfall & Agile software development models.
Explain Waterfall SDLC model
Explain Agile SDLC model
What is Agile Methodology
Tell me the differences in Waterfall & Agile
Differences between waterfall and Agile Methodology
How do you collect requirements?
From the Plan or Define phase, there will be High level business needs. Based on the business needs, Business Analyst will do some research (if it is a product). If it is application Business Analyst will hold sessions with client to understand requirements.
Requirements' gathering is done: face to face or closed room discussions, telephone, emails.
Requirements gathered will be documented and formatted and shared with all the stakeholders. Requirement review sessions will be held to improvise requirements. Once requirements are finalized, Business Analyst will freeze the requirements and get sign-off from client
What are the characteristics or skills a business analyst should have?
Business Analyst Skills
What are the roles and responsibilities of business analyst?
Business Analyst Daily Tasks
Business Analyst Role in Agile Project.
Do know QA or testing cycle? 
Business Analyst Role in Testing
You can be told some scenario and asked to act as Business Analyst and collect requirements (interviewer will act as client). 
This will be scenario based question like, I am running xyz business and I want to build software, as a business analyst what do you suggest? 
You can be told some scenario or business case and asked to write possible requirements on a sheet of paper. 
Understand the requirement clearly, ask questions? list down the possible requirements.
Sample BA Document Templates
What would you do if you haven't received all the required sign offs on phase documentation submitted for approval? 
Flag process risk, for resolution you will work with Project manager.
What are your strengths and weakness? 
Prepare yourself before attending the interview.
These are the commonly asked interview questions for Business Analyst.
Still you need more interview questions then you can visit on google, many interview questions articles and videos are available.
All the best******
More Business Analyst InterviewQuestions.
Here my intention is to provide overview on Business Analyst interview questions.
I hope it helped you to provide overview on commonly asked Business Analyst interview questions.
Sample BA Document Templates