Requirement Elicitation Techniques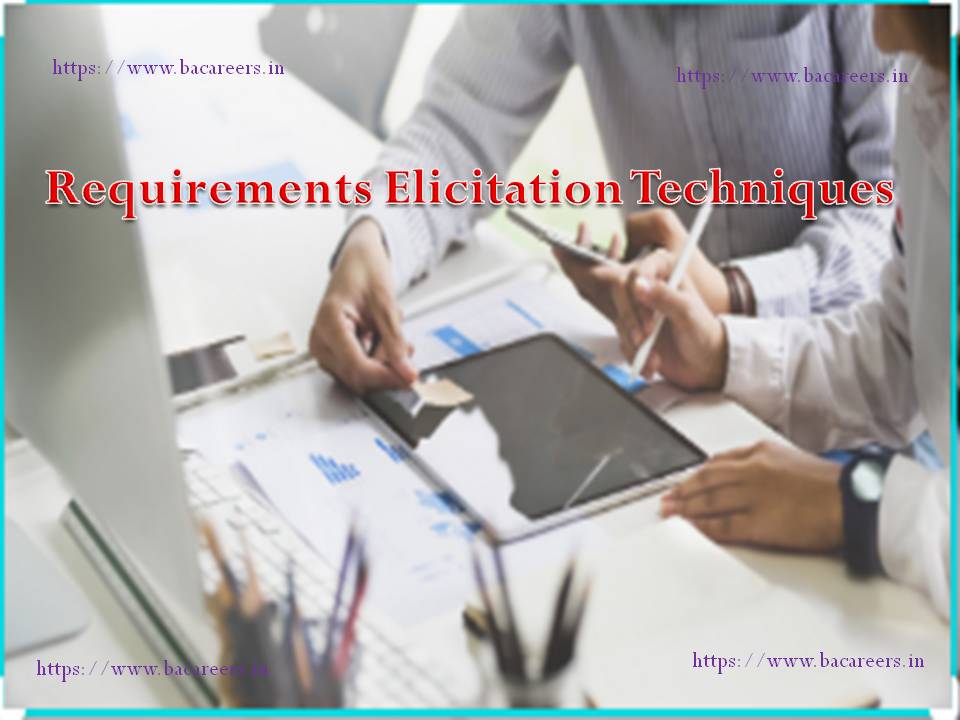 As a Business Analyst we need to understand the requirements clearly, to understand the requirements as a Business Analyst we need to use techniques to understand the requirements. Let us observe Business Analyst elicitation techniques.
Elicitation is the process of digging out the information from the stakeholders. Requirements Elicitation serves the foundation in documenting the requirements.
Elicitation Techniques
Let us see here below:
Brainstorming
Document Analysis
Focus groups
Observation
Workshop
Interview
Prototyping
Questionnaire (Survey)
Sample BA Document Templates
FAQ's
What are requirement elicitation techniques?
Requirements elicitation practices include interviews, questionnaires, user observation, workshops, brainstorming, use cases, role playing and prototyping. … Before requirements can be analyzed, modeled, or specified they must be gathered through an elicitation process.


What techniques do business analysts use?
S.W.O.T. stands for Strength, Weakness, Opportunities, and Threats. This is the most important technique used in business analysis. It is conducted by a group of people with different mindsets and perspectives in the company in order to access a changing environment and react accordingly.


What is elicitation in business analysis?
Requirements Elicitation. A Project's Foundation

Requirements elicitation is the set of activities where information is given by stakeholders, users, and customers to be applied to the design of the initiative or the solution. Elicitation is a perpetual process during a project development.

What are the three main techniques of business analysis planning?
List of Best Business Analysis Techniques
SWOT Analysis. The term SWOT stands for its four elements– …
MOST Analysis. The term MOST stands for its four elements – …
Business Process Modelling (BPM) …
Use Case Modelling. …
Brainstorming. …
Non-functional Requirement Analysis. …
PESTLE Analysis. …
Requirement Analysis.


Which requirement elicitation is most popular?
Having said that, brainstorming, document analysis, interviews, prototyping and workshops are the most widely used requirement elicitation techniques.


Why is requirement elicitation a difficult task?
Why is Requirements Elicitation a difficult task ? Explanation: Users specify unnecessary technical detail that may confuse, rather than clarify overall system objectives. … Explanation: Requirements traceability provides bi-directional traceability between various associated requirements.


What is elicitation in teaching?
Elicitation is a technique by which the teacher gets the learners to give information rather than giving it to them. A teacher elicits the rules for the structure of the first conditional by asking learners to look at some examples, then writing 'We make the first conditional in English with…?' on the board.